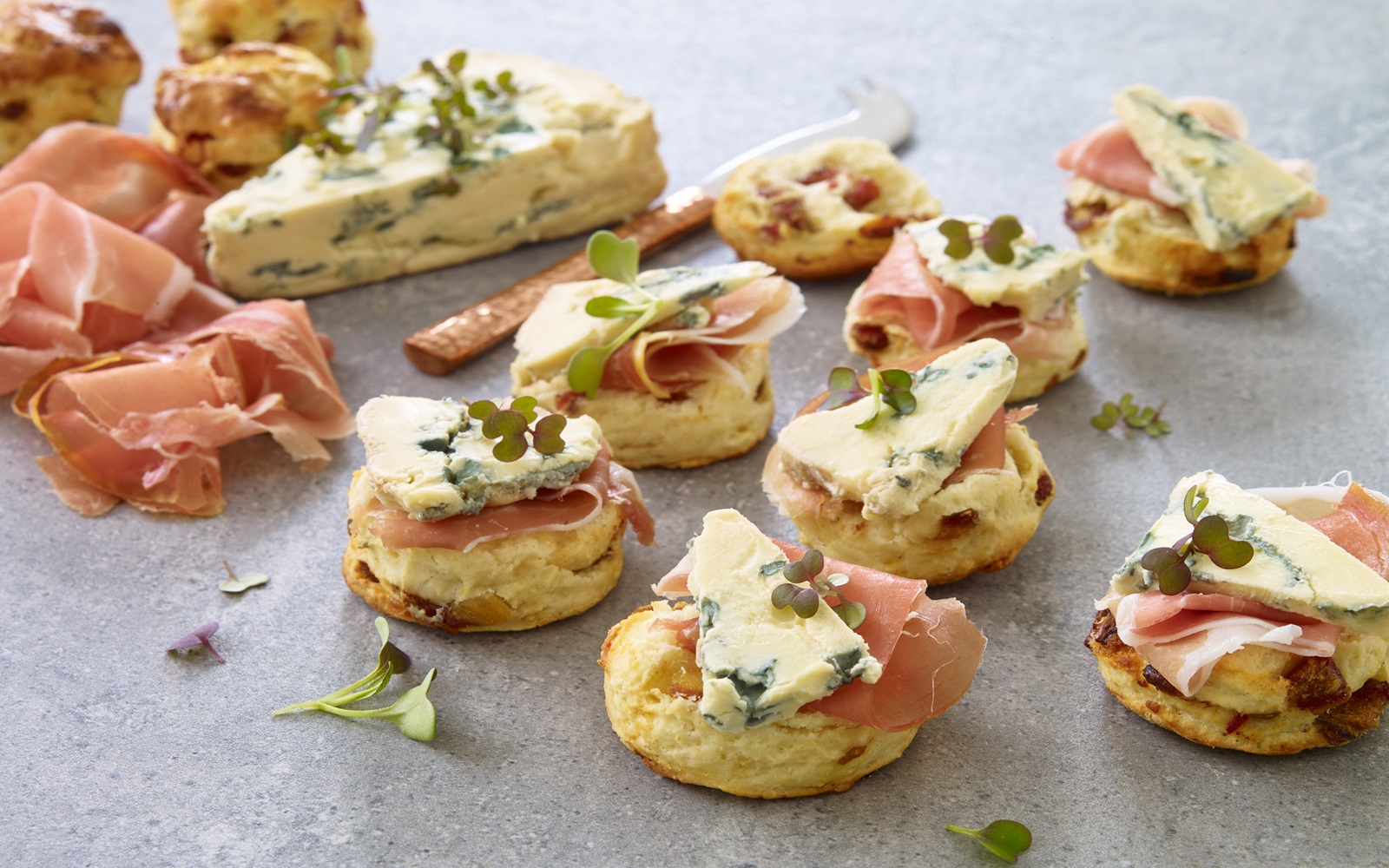 THE DAIRY KITCHEN
Mini Date and Fennel Scones with Blue Cheese
By THE DAIRY KITCHEN
They're scones but not as you know them! A great savoury addition to an afternoon tea selection, or picnic treat for the racing season! These delicious little scones go well with all sorts of cheese or even a smear or cream cheese and some smoked salmon!
Ingredients
2 cups (300g) self raising flour
pinch of salt
40g cold butter
10 (160g) fresh or dried dates, chopped
½ teaspoon fennel seeds
1 cup (250ml) buttermilk
1 egg, lightly beaten with 1 tablespoon milk
10 thin slices prosciutto
400g soft blue cheese, to serve
Handy Tips
Alternatively try making the scones in a food processor to save time. Blitz the flour, salt and butter until the mixture resembles breadcrumbs. Add the seeds and dates and pulse gently just until combined. Add the buttermilk and pulse once or twice until just combined before turning out the dough and kneading as directed.
Method
Preheat oven to 220°C (200°C fan forced). Sift flour and salt into a bowl. Rub in butter until mixture resembles breadcrumbs. Stir in the dates and fennel seeds until combined. Using a palette or butter knife, stir in the buttermilk until dough just comes together. Knead gently on a lightly floured surface.
Press or gently roll the dough out to a 2.5cm thickness and cut into rounds using a 4cm round pastry cutter. Place rounds about 2cm apart on a paper-lined baking tray. Brush tops with egg mixture and bake for 12-15 minutes or until golden brown and cooked through.
Serve split scones topped with ¼ slice of the prosciutto and a small wedge of blue cheese.
---