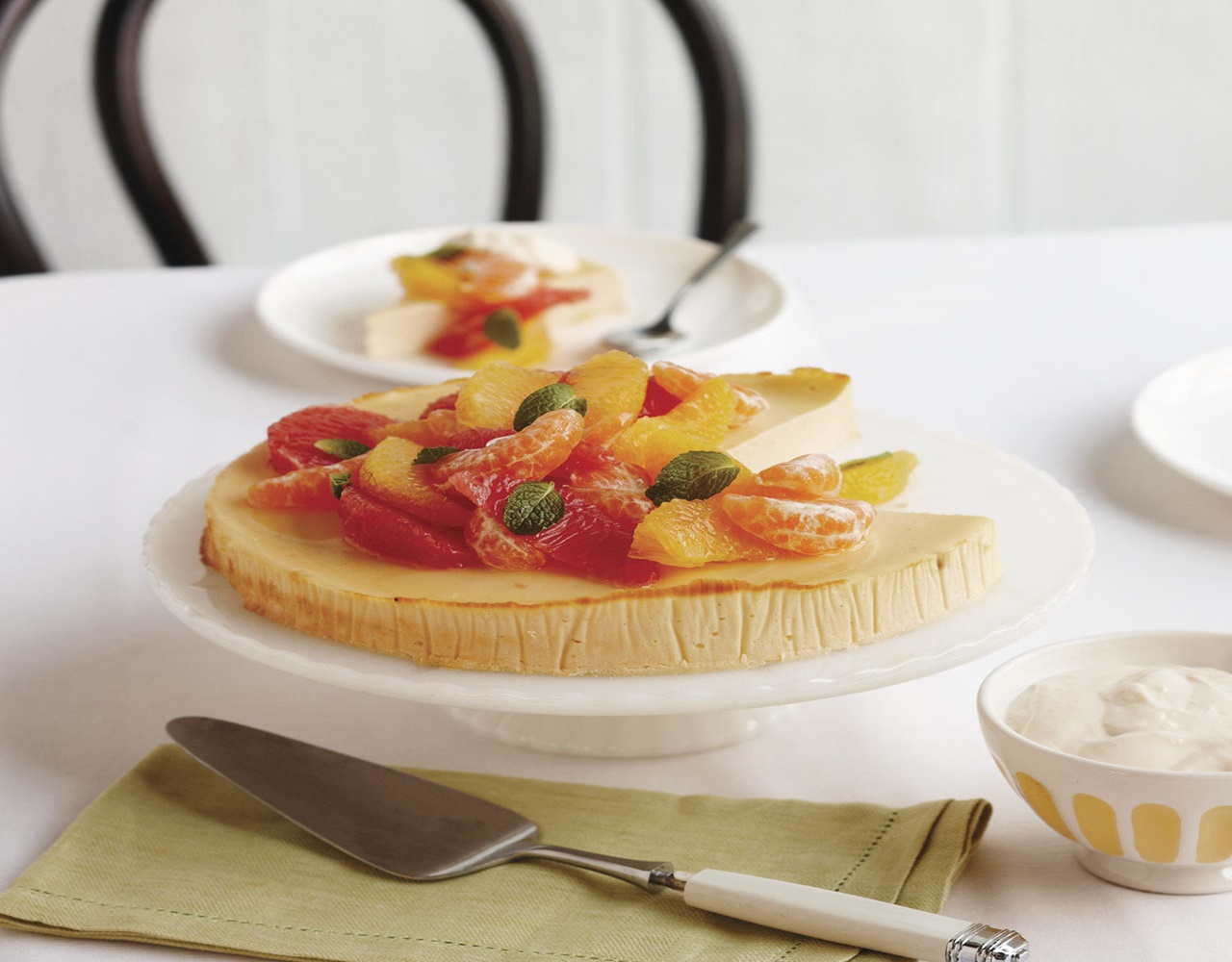 THE DAIRY KITCHEN
Baked Vanilla and Ricotta Tart with Star Anise Citrus
By THE DAIRY KITCHEN
This sweet baked ricotta cake is so delicious served with the aromatic star anise citrus fruit.
Ingredients
600g wedge ricotta cheese
1/2 cup reduced fat vanilla yoghurt
3 eggs, lightly beaten
1/4 cup caster sugar
2 teaspoons vanilla
600g citrus fruit eg oranges, ruby grapefruit, mandarins
1 star anise
3/4 cup reduced fat vanilla yoghurt, extra
mint leaves, to decorate
Handy Tips
To segment citrus fruit, first peel the fruit removing any pith. Slide a small paring knife between each segment and the connective membrane, until you hit the middle of the fruit, turn the knife around on itself, hooking around the bottom of the segment and slip the knife up the otherside of the segment to remove.
Nutrition (per serve)
| | |
| --- | --- |
| Energy (kj) | 659 |
| Sugars (g) | 14 |
| Protein (g) | 8.8 |
| Dietry Fibre (g) | 1 |
| Fat Total (g) | 7.4 |
| Sodium (mg) | 136 |
| Saturated (g) | 4.3 |
| Calcium (mg) | 171 |
| Carbohydrates (g) | 14 |
| Iron (mg) | 0.5 |
Method
In a food processor, combine ricotta, yoghurt, eggs, sugar and vanilla until very smooth and creamy. Pour into a baking paper lined 23-24cm spring form pan. Bake at 150°C for 30 minutes or until just firm, turn off oven and allow cake to cool in the oven for 1 hour, stand at room temperature for 1/2 hour and then refrigerate until cold.
Peel and segment the citrus fruits over a bowl to collect the juice, then squeeze any remaining juice out of the leftover membrane etc. Place the juice and star anise in a small saucepan and boil until slightly reduced and thickened. Pour the hot syrup over the segments and chill until required.
Remove the cheesecake from the pan and place on a serving platter, top with fruit, syrup and mint leaves. Serve slices of the tart with extra yoghurt dolloped on the side.
---